"If someone wants a sheep, then that means that he exists"
-Antoine de Saint-Exupery
Maryland Sheep and Wool Festival!!!! woot woot!
How did this happen? All of a sudden I am completely possessed by ALL THINGS YARN and fiber related. Must...touch...the sheep....
A few of the New Haven Stitch n Bitchers are taking a road trip down on Friday May 4th. Heidi and I are staying together in a swanky hotel, others are going the campground route. I want to jump on the bed and take long showers and watch porn at night. While crocheting in bed. (okay, just kidding, Heidi. I'll wait until you leave the room.) I really hope someone else decides to join us in our room, to bring the cost down. Yikes! Porn is expensive!
I don't really know what to expect from this sort of event. Baa baa black sheep? Furious spinning wheels? Ladies in ponchos?
I'm guessing it's like the Big E, without all the other arts, crafts, games, rides, food, and leather boutiques. That leaves pretty much just sheep and yarn and sweaters.
From checking their website
Maryland Sheep & Wool Festival
it is hard to say what to expect; the site seems to be primarly for vendors, but they have started listing some workshops that will be held as well as the schedule. Nothing fancy to see on the site. It's really all about the event.
However,
Knitty.com has a fun list of what to expect…
(thanks Judy for the linkage)
Frankly, I am looking forward to the road trip and doing some girl-bonding (much needed in my life). My hope is that the other ladies are on the same page. If nothing else, I'll get some serious hours at crochet in the evenings, uninterrupted by man, child or dog. My fear is that I will end up coming home with a new fetish for spinning. I just cannot afford a new angle of this hobby/obsession! There, I've said it. DO NOT LET ME TAKE UP SPINNING. Not in 2007, at least. Omg, that's it! I will not dive into another aspect of fiber arts until 2008. This will merely be my year of crochet, investigation and research.
But back to sheep, just for a moment. I am reminded of the book by Haruki Murakami, "A Wild Sheep Chase."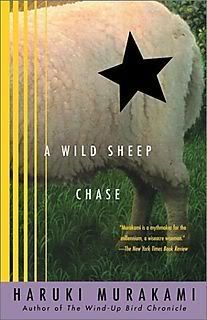 I will need to re-read it before making our journey; maybe I should actually read the first two books in the trilogy as well. It has nothing to do with knitting or crochet, but it does cover obsession nicely. And a special sheep.