Even though I was sick, dehydrated, and all over shitty, I gulped down my Kaopectate, and drove to the Yarn Garden for their Superbowl sale. HOLY SHRIMP. This was my first outing to a real yarn store....I'd say I would chalk it up to my feverish state, but that would be a lie. I totally spazzed and bought a bag-full of yarn.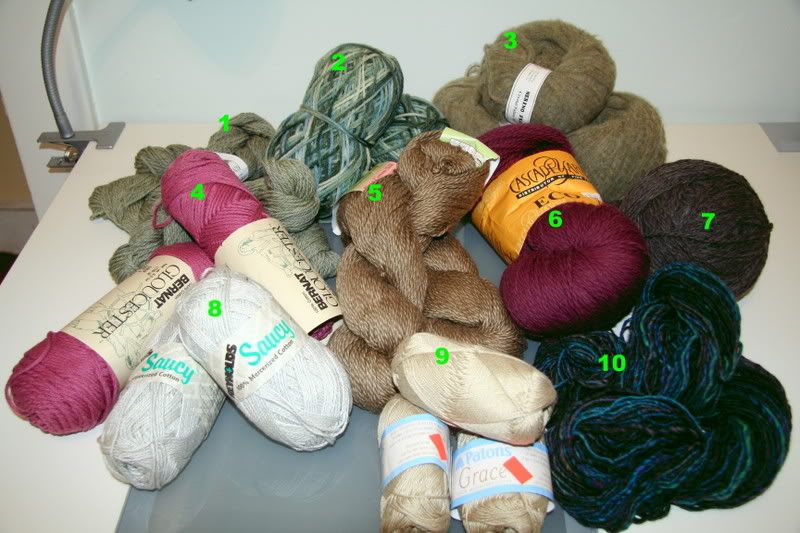 Here's what I scored:
1. Renaissance 100% Wool. 110 yards; I bought 3.The picture doesn't show how wonderful and green-grey it really is. It looks like the ocean to me.
2. Naturally Nazareth 100% Wool, color = Spring. 184 yards; I bought 2 skeins. Again, the pic doesn't show the brightness of the blues and greens in the varigation.
3. Crystal Palace Merino Frappe 80% Wool, 20 % Poyamide. The soft green balls were so fluffy, I got 3, 140 yards each.
4. Bernat Gloucester 100% Cotton in Antique Lilac. I'm working on a set of simple face cloths.
5. Misti Cotton 83% Pima 17 % Silk. It's so soft, I want to swim in it. I hope the 382 yards I have is enough to make a delicate shrug.
6. Cascade Eco Yarns in Berry, 100% Wool, an enormous 478 yards. It's really fairly soft, too. I plan on experimenting with felting with this.
7. Cascade Eco Yarn in dark grey, same kind as #6. I wanted to make a handbag, but I picked a ultra-complicated pattern. So I might use it for something else until I master the tricky stitches.
8. Reynolds Saucy 100% Mercerized Cotton. 3 of them at 185 yards each. Ok, honestly, I bought them from the super sale rack just because they said "Saucy." But I do enjoy working in cotton.
9. Patons Grace 100% Mercerized Cotton in Champagne. Why? Why? Why???? I envision myself making fancy doilies and towel trim. yeah, sure.
10. Last, but not least, is my treasure. Noro Kureyon 100% Wool. This is #12 I think. Hand made and hand dyed in Japan. *I'm in love*
The Noro has already become my quick obsession. I worked a swatch (soon to become a small felted tote...pics to come) and just found myself staring into the fabric. The colors are exquisite. Luscious. Mesmerizing. The color changes are mysterious. It is going to sound COMPLETELY RETARDED, I know, but it actually got me choked up, like a beautiful song, or a view of dappled sunlight through trees might. It is a yarn that I want to meditate on, and hold, and form into beautiful things.
And thankfully, it is available for purchase to the highest bidder on ebay, in tons of other hues and fibers.